Pan-Americas
Curated by Arlan Londoño

Donde se narra cómo América Latina desapareció de los mapas, cómo sus dictadores y guerrilleros pasaron a mejor vida y se llevaron consigo el horror y la gloria, cómo el realismo mágico fue sepultado en la selva y cómo esta milagrosa y tórrida región se torna cada día más difusa, más aburrida, más normal.
Jorge Volpi, "El insomnio de Bolivar"
There is a narrative of how Latin America disappeared from the maps, how its dictatorships and guerrilla armies passed away to better life, and carried with them their horror and their glory, how the magic realism was buried in the jungle, and how this tropical and miraculous region is becoming more diffuse each day, more boring and more normal.
Jorge Volpi, "Bolivar's insomnia"


The idea of this exhibition began during a talk about Latin American culture presented by the members of Beehive Collective, a group of graphic artists and activists. I was amazed at how many versions of Latin America we deal with outside Latin America. Pan-Americas is an exhibition of contemporary art projects that examines the political, economic, colonialist, and post-colonial ideas behind the dream of integration between North and South America, featuring art works by Pablo Helguera, Eugenio Salas and the Beehive Collective.

All three artists are trying to create a new form of connection and communication between people from North and South America. Pablo Helguera's School of Panamerican Unrest is the result of a trip by car along the Panamerican highway. Traveling through the continent, Helguera asks the people he encounters how they feel about the Panamerican dream of connection and interaction amongst the Americas. Based in New York City, Pablo Helguera employs unusual formats ranging from experimental symposiums, phonograph recordings, exhibition audio-guides, publications and nomadic museums.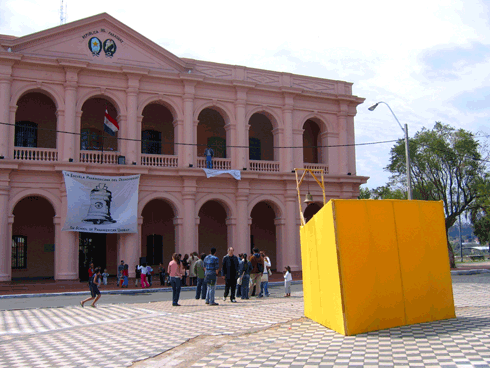 Toronto-based artist Eugenio Salas has been using Coyote tactics in his latest projects. Coyote is the name given to the human smuggler who works between Mexico and USA. Like a coyote, Salas works as a mediator between people by trying to establish connections or communications between them. His intervention for the exhibition Pan-Americas is titled Tunnel; itrefers to smuggler tactics that cause encounters of cultural communities or socio-cultural subjects. Salas investigates how immigrants establish connections within their new context, and how they create the North American dream. His work seeks to connect the unconnected.


Beehive Collective's Hemispheric Graphic Project creates dialogue between people with a strong political orientation from Latin and North American cultures. A collective of artists based in Canada and the United States, Beehive tries to reconnect lost tracks of communication. A grassroots collective that creates links (in this case) between the America, Beehive creates collaborative anti-copyright images that are used as educational and organizing tools.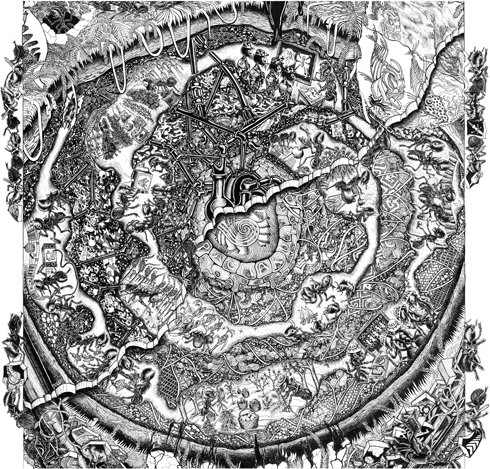 All the artists employ processes and methods that are part of everyday life, but they do so with a new, creative and communicative purpose. In The School of Panamerican Unrest, Helguera brings together information about issues of local and social concern. He does this through debates, programs and roundtable discussions. His trip along the Panamerican Highway was a critical approach to these concerns. The Panamerican Highway was built as a form of socio-economical integration and cultural communication. This highway system extends from Alaska in North America to the lower reaches of South America. Helguera's trip proved to be an influential way of accessing the dream of communication and development of this area. The project allowed him to discuss how artistic practice in the Americas might acquire a more influential role in public life and in political, cultural and social discourse, thereby enriching the perspective of communities in a productive and positive manner. Set up in its own room, Helguera's exhibition consists of a selection of pictures from The Panamerican Diary, an edition of 120 photographic works that describe the 120 days of ground journey from Anchorage to Tierra del Fuego undertaken as part of The School of Panamerican Unrest. The second component is a selection of poster size collages from The Panamerican Suite, which consists of approximately 120 collage pieces. The installation also includes two videos, presented on TV monitors. The project functions as an archive inspired by the travel itineraries of those who once crossed the continent, ranging from missionaries, explorers, scientists, revolutionaries, intellectuals, writers, and others. In the utopian spirit of those who once conceived of the Americas as a unified entity, The School of Panamerican Unrest crosses the continent – making literal the very idea of Panamericanism, where artists, writers, political activists, sociologists, economists and educators are invited in this nomadic think tank.


Eugenio Salas' Tunnel consists of an architectural passage that acts as a transit space between Pablo Huelguera's exhibition and the Beehive Collective's installation. Sala's intervention emphasizes the idea of two joined ends while creating an illusion of magnetic attraction and, consequently, triggering a need to visit the opposite gallery. Audiences confronted with the tunnel will eventually have to decide whether to traverse it and continue with their trajectory to other, adjacent galleries beyond the Pan-Americas exhibition. Salas presents the tunnel as the smuggler's working place. It is a metaphor that refers to the physicality of several types of actions. In particular, the coyote works with migration, which is linked to walking journeys. Coyotes make use of their knowledge of space, its borders and custodians, to develop alternative paths and sneak their clients across the border. In most cases, they must walk into tunnels and small gaps, and they face uncertain conditions. Ultimately, the tunnel is an opportunity to confront audiences with the space and with themselves, prompting improvisation and random encounters, much like migration.


The Free Trade Area of the Americas (FTAA) and Plan Colombia Graphic Projects by the Beehive Collective started as critical approaches to the way globalized corporations establish themselves within Latin American countries. FTAA and Plan Colombia Graphic Projects are located in the north gallery and consist of the documentation of different trips they have taken since 2000. The exhibition includes banners, graphic images and brochures created as a result of the collective's engagement with Latin America. I am interested in the communicational strategy of the Beehive Collective. They travel to countries where they perceive there could be problems and obtain information through interviews with different communities. Once their trip is complete, they create the graphic project and return to the regions involved, sharing it with the population and showing it in popular schools. Subsequently, they show the project in local schools in North America. Their exhibition presents an ongoing project and an archive that changes whenever they are in contact with people.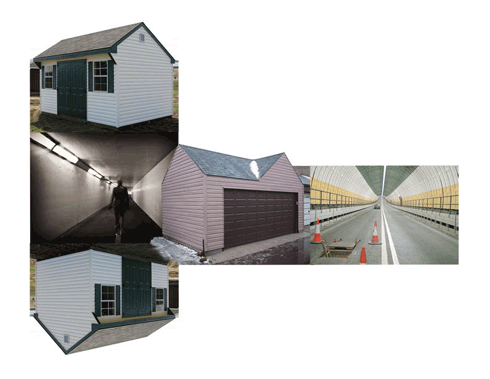 In the context of this exhibition,I see the Beehive collective project as working in three main ways. Firstly, the project analyzes Latin American's adverse relationship with the north. Secondly, the project creates its own method of establishes communication links while dealing with topics shared by voiceless people (e.g. Latin American farmers). Thirdly, Beehive Collective redistributes the information they have received through their graphic campaigns and travels. Their work represents the dream of a relationship between the people of the North and South Americas.


Pan-Americas is an exhibition that encourages us to appreciate three different versions of the problematic relationship between Latin and North America. The PanamericanHighway, as a dream of integration and communication between the Americas, is an unfulfilled proposal. The artists in this exhibition take part in this dream while acknowledging the political impositions that have turned it into a nightmare.
---
Brochure PDF
---

Essay PDF